Very important: Don't get ripped off.
We hate to be rude and say this up front, but purchasing a VPN Router is a dangerous business filled with misleading claims and hidden charges. Our CloakBox VPN Router is an all-inclusive offering and is plug and play out of the box. No hidden charges or outsourcing.
Every CloakBox VPN Router is lovingly built, custom-configured, and shipped by Witopia staff. It INCLUDES a brand new premium VPN Router, one full year of VPN service, and 24x7x365 support. It will arrive plug and play and ready to rock.
Other " VPN Router" providers outsource various pieces to third parties, don't include
real technical support, and the VPN service is sold separately! Seriously?
Make certain you add up the total cost and investigate thoroughly before you buy.
You'll find we're actually quite the bargain.
Currently, we're building CloakBoxes on the following routers
which we have chosen after extensive testing of other brands
and models. They were chosen not only for performance,
but reliability, and quality of the hardware:
CloakBox™
Asus RT-AC66U B1 AC1750
Dual Band Gigabit Router
This is a great little router with big performance. Not to be confused with older similar models, we use the latest 802.11ac dual band router with super fast 1 Ghz processor and hardware version B.
Dual Band (2.4 Ghz/5 Ghz)
1750Mbps Data Rate
802.11 ac/b/g/n
Gigabit Ethernet 4 LAN/1 WAN
Broadcom 1Ghz processor
256MB RAM
128MB Flash Memory
2 USB 2.0/3.0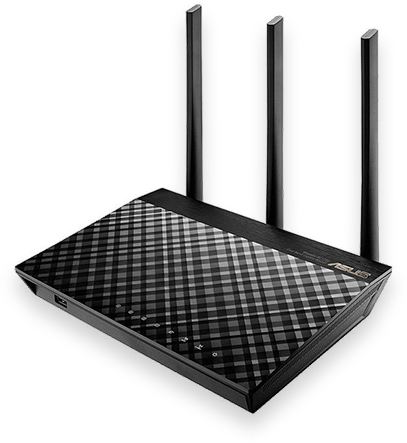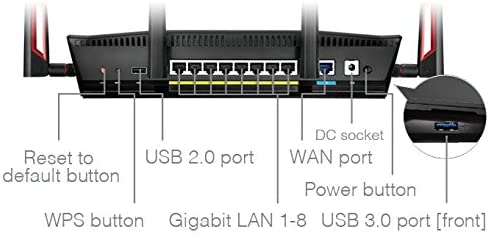 CloakBox Pro™
Asus AC3100/RT-AC88U
Dual Band Gigabit WiFi Router w/MU-MIMO and WTFast game accelerator technology.
The Asus AC3100/RT-AC88U is an amazingly powerful VPN Router. In our testing, it clearly outperformed peer routers from other manufacturers. When paired to our carrier-grade VPN network — with proprietary FreeBSD server technology — you're assured super-fast VPN streaming for all your devices — including AppleTV, Smart TVs, and gaming consoles such as Xbox and Sony Playstation. This premium VPN router is perfect to bathe your whole mansion or office in WiTopia-configured plug and play VPN goodness!
Dual Band (2.4 Ghz/5 Ghz)
3167 Mbps Data Rate
802.11 ac/a/b/g/n
NINE Gigabit Ethernet Ports (8 LAN/1 WAN)
Broadcom Dual Core 2×1.4 Ghz processor
512 MB RAM
128 MB Flash Memory
USB 2.0/3.0
What can I do with a CloakBox™ VPN Router?
Connect any Wi-Fi enabled device to use your VPN router.
Computers, iPhones, iPads, Android devices, Smart TVs, XBOX, Sony Playstation, Apple TV, Roku…you name it. Any device that has Wi-Fi can connect to your CloakBox VPN Router and share always on VPN access.
You can also plug devices in via ethernet.
Every CloakBox VPN Router has super fast gigabit ethernet jacks so you can also plug devices in directly if you prefer.
You're automatically secured, private, and encrypted with an always on VPN network.
Any device connected to your CloakBox VPN router has its IP address hidden and is connected via an encrypted tunnel to the Witopia VPN Gateway of your choice. No need to log in, install apps, or
configure devices.
Enjoy a private encrypted VPN network for you, your family, or employees.
All your internet searches, websites visited, and any online activities, are completely encrypted and
anonymous while connected to your CloakBox VPN Router.
Unblock applications or content.
Located in a country that blocks certain applications or content? With your VPN Router, you'll be able to bypass these restrictions and connect to the internet via encrypted VPN tunnel through another country entirely.
Access country specific content
Connect to any VPN Server Gateway on our global VPN network and experience the internet as a local from that location.
Why is CloakBox™ the best VPN Router?
We rigorously test lots of routers and always choose the very best, most reliable, hardware available.
You can rest assured that what we choose to build on is of the highest quality. The VPN Router will serve you well for a very long time.
Unlike others, EVERYTHING is included and NEVER outsourced.
No hidden charges or outsourcing. Every CloakBox VPN Router includes brand new VPN Router hardware, one year of VPN service, and 24x7x365 support by Witopia employees. Others outsource pieces and parts so the final price is much higher.
CloakBox™ is the fastest VPN Router.
Beyond the performance of the hardware, our VPN Routers connect to our optimized OpenVPN VPN servers on our super fast global VPN Network. You'll enjoy unlimited bandwidth and unlimited country-
switching as you connect at "ludicrous speed."
Backed by 24x7x365 Support
Unlike others, we build and support every CloakBox VPN Router ourselves. Support is never outsourced
and 24x7x365.
30-Day Money-Back Guarantee!
As long as the router and other components are returned in new condition in their original packaging, you'll receive a full refund.