User guide for personalVPN™ Mac App
For macOS 10.14 (Mojave) only.
This is a temporary process that may be needed for some Mojave users using our current client. We plan to release a fuller beta very soon, followed eventually by a more richly designed final version. Sorry any trouble this causes early adopters!
Critical note: If at any point you get a prompt to do a Software Update to version 2.4.6, click Skip This Version; version 2.4.6 will NOT work with macOS 10.14/Mojave.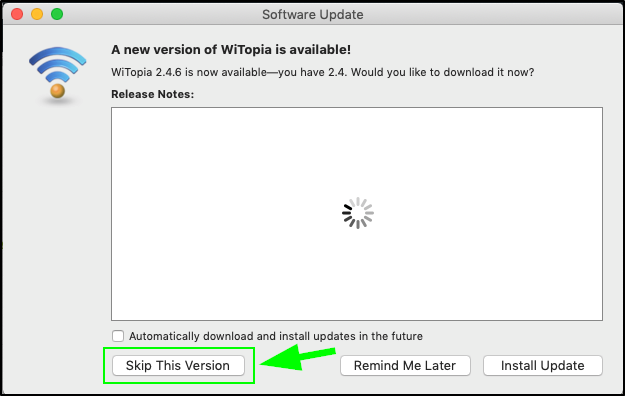 Make sure the "Automatically download […]" box is NOT checked.
Please read this guide in its entirety! If any small step is missed, the process *will* fail and it will be necessary to start over. Some of the steps may appear in a different order for you, or may not be necessary at all, depending on where your system is in the process already (Ex: If you already do or do not have a previous version of the app installed, which version you have, and so on.) You need only do the steps that your system prompts you to.
1. Note: If you are reaching this page from your dashboard, you can skip this first step, and go to step #2.
Log into your account here. From your dashboard Go To: Downloads/Setup > Click the macOS button. The WiTopia for macOS 10.14 will download to your desktop.
2. Important! If you already have the WiTopia personalVPN app installed on your Mac: Go to your Applications folder > Drag the WiTopia app from there to the trash > and empty the trash** to remove the existing app.
** If the trash is not emptied, this will not work!
Then, run the personalVPN.pkg that you just downloaded to your Downloads folder. Follow your system's prompts to install the app.
3. When you launch the app, you may get the following prompt: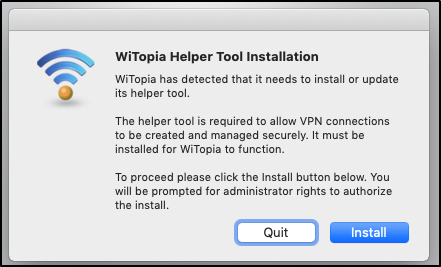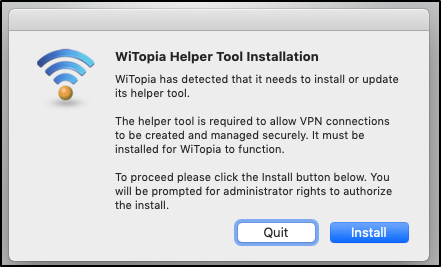 Click Install and the process will likely FAIL the first time, with the following message:*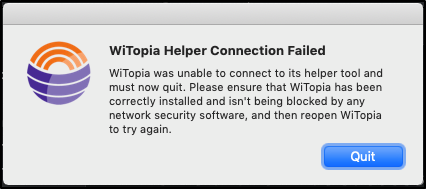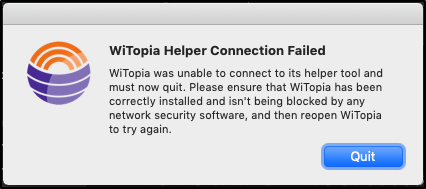 – if so that is OK – proceed to step #4.
* If you do NOT get this prompt, or the Helper Tool installation is successful – you're done, and you can start using the app right away!
4. If you got the Helper Tool prompt from step #3 and the WiTopia Helper Connection Failed… Open Finder and click: Go > Go to Folder…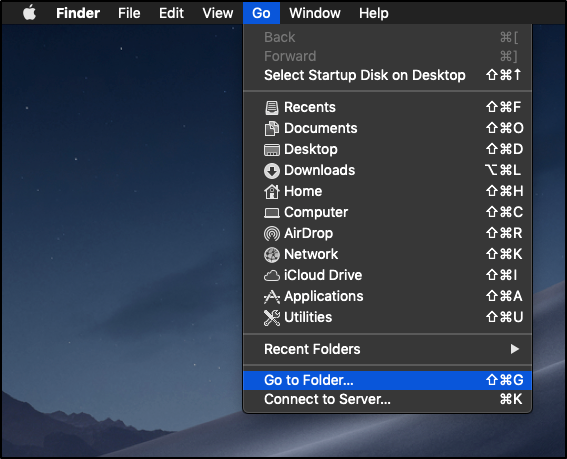 5. In the "go to the folder" field, enter: /Library/privilegedhelpertools


Click Go
6. In this folder, select the file: net.witopia.WiTopiaHelper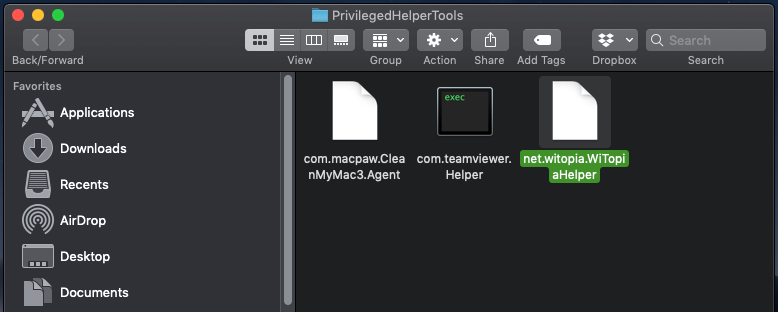 Drag this file to your trash, and empty your trash.
7. Then, go to your Applications folder, and Run the WiTopia.app again. You should get the WiTopia Helper Tool Installation prompt again. Click Install. Once this installs successfully, you're done, and the app is ready to use!
Final notes: If you get the following message…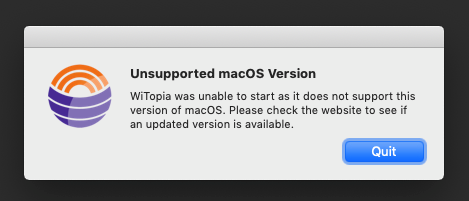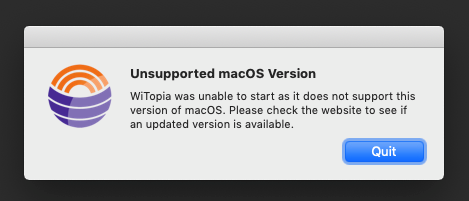 This indicates something didn't go right and you still have the incorrect version of our software for Mojave – Please go to step #1 of this guide and give her another try.